Posted by Jaeger Shaw on 30th Nov 2021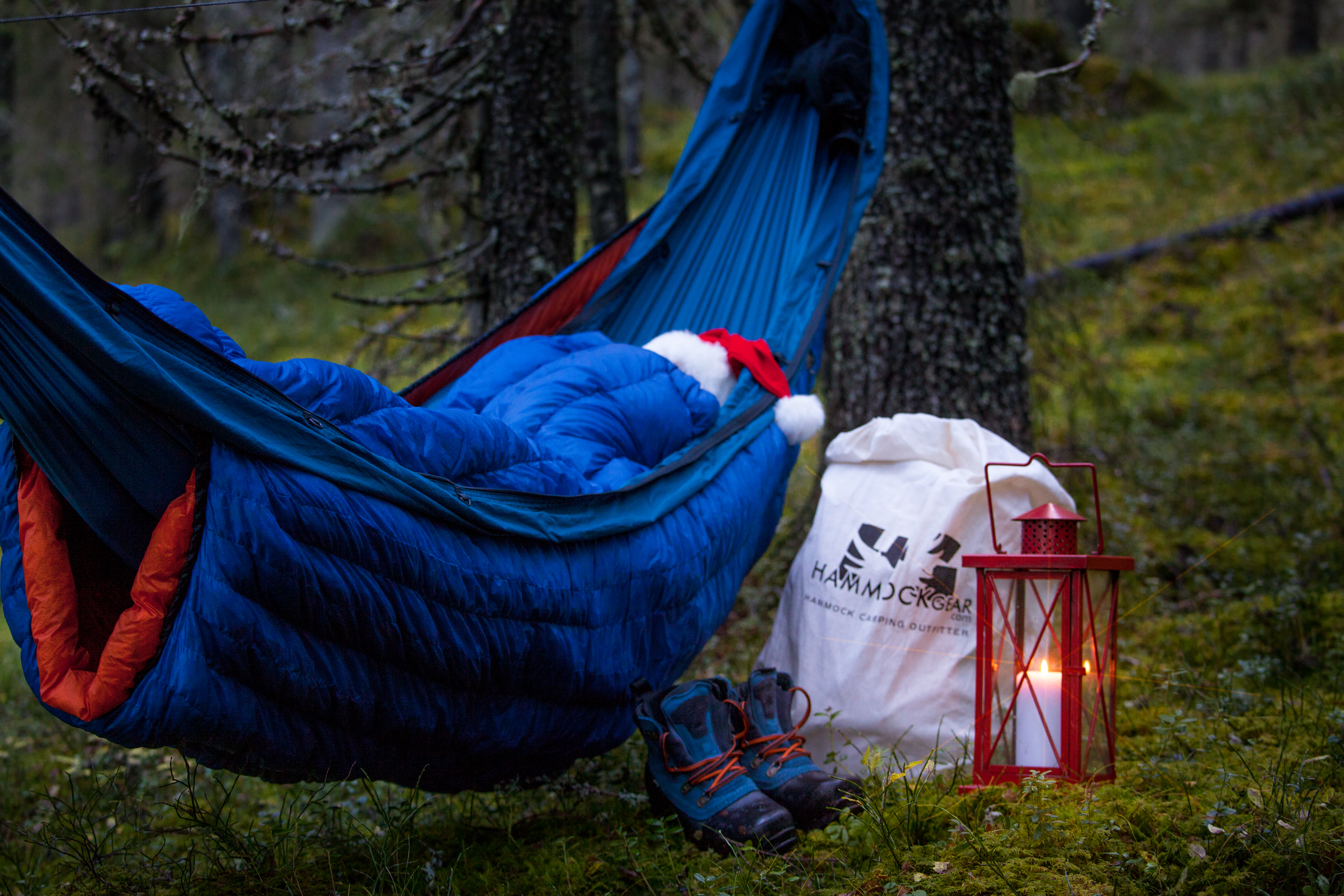 Whether you're gifting for an established hammock camper, or you'd like to introduce someone to the art of the hang, we're here to help with plenty of gear suggestions in a variety of price ranges. To you and yours, we say happy holidays, and happy hanging!
$25 AND UNDER
Aluminum Y Stakes ($1 per) - Classic, sturdy Y stakes for the right price. Everyone should refresh their stakes periodically, as the tops can become jagged and sharp from seasons of rock pounding.
Gear Aid Tenacious Tape Repair Patches ($.50 per) - Fabric rips. It happens. And that's why everyone needs repair tape. A great stocking stuffer.
Gear Aid Tenacious Tape 3"x20" ($5) - Some rips are long and better handled by strips of tape than square or circular patches. An ideal repair kit has both patches and tape.
Face Mask ($7) - Keep those around you safe with this inexpensive everyday essential.
The Ultimate Hang Hammock Camping Illustrated ($19) - A great gift for outdoors people who might consider hammock camping. A nudge, if you will, in the right direction. An equally great gift for anyone looking to up their hammock game.
Ridgeline Organizer ($20) - This is the single most important storage accessory for hammocks. New hammock campers need this, and veterans would likely appreciate a second for those super chill trips where you bring lots of knick knacks. You can't go wrong with this one.
Mesh Tarp Sleeve ($20) - Conveniently store your tarp overhead. Especially great for multi day car camping, and mixed forecasts.
Daisy Chain Tree Straps ($20) - This the most crucial ingredient in hanging hammocks the right way.
Mesh Peak Pocket ($25) - The mesh peak pocket takes a highly underutilized, oft-wasted space (the interior tips of the hammock), and turns it into storage. Excellent for stashing an extra layer in case it gets cold.
Mesh Ridgeline Loft ($25) - Another storage essential, the Ridgeline Loft, is great for storing big, lightweight items, like a blanket, puffy, or pillow. Everyone should have one!
Backpack Cover ($25) - The key to hiking in the rain is keeping things dry, and that includes your pack. Everyone needs a pack cover.
Ground Cloth ($25) - Excellent for keeping your feet and ground storage gear dry in wet conditions. Great pick up for all-weather hammock campers.
$50 AND UNDER
Economy Pillow, XL ($30) - Not everyone would sleep with a big pillow, but everyone would appreciate having one that was designed to be used with hammocks in mind.
1100ml HG Branded Titanium Cook Pot ($45) - Titanium cook pots are the best options for ultralight hiking. A great pick up for vets and beginners alike.
Dyneema Fiber Dry Bag, Large ($45) - Every hiker has dry bags, but Dyneema is the difference maker. It is the best performance fabric for ultralight hiking gear. Anyone would be stoked to receive this.
Bottom Entry Bug Net ($50) - This is a really great pick up for any hammock camper without a zippered bug net hammock.
Underquilt protector ($50) - Is your hammock gift recipient interested in foul-weather hammock camping? The underquilt protector is a new item that shelters the underquilt from windy, wet air, and is a great add on for any kit
$99 AND UNDER
Standard Hammock ($60) - It follows that if someone likes hammocks, then they would probably like another one! If they've never used one, then this gift is best paired with the above suspension kit.
Economy Down Hood ($70) - Got a winter camping enthusiast on your hands? This is a great style to compensate for the fact that quilts don't have an integrated
Gift Certificate ($80) - The perfect gift for a hammock camper if you don't know what they need or what's in their kit.
$100 AND OVER
The Journey Tarp ($130) - Hammock camping in the rain starts with buying a tarp. This is a great gift for anyone who would appreciate the peace of mind offered by a full coverage tarp.
Circadian Hammock ($130) - Bugs are awful, and the ideal solution to keeping them out is having a hammock with integrated bug mesh.
Economy Burrow Top Quilt ($170) - This is the perfect hammock quilt at the right price. It's cozy, ultralight, affordable, and designed specifically for hammock use.
Economy Incubator Underquilt ($170) - This would make the perfect gift for anyone who likes being in hammocks, but hasn't slept in one yet. This is the key ingredient for hammock sleeping.
WanderLust Complete Kit for Hammock Camping ($230/$499) - This is THE perfect gift if you want to get someone into hammock camping. Included is every item a person needs to set up a complete hammock sleep system. Hammock, suspension, and tarp at the $230 level. Top quilt and underquilt are added at the $499 level. Either option will save you 25% off the retail price if purchasing these items individually. It's by far the most economic American made hammock sleep system out there.
WanderLuxe Ultralight Kit for Hammock Camping ($399/$799)- This is the kit for the ultimate gram-weenie in your life. It is our lightest weight sleep system available at discounts only made possible by bundling these premium items into one amazing kit. Receive a 15% discount on a Hammock, suspension, and Dyneema tarp at the $399 level. Save 20% on the entire kit when you opt to add our premium top quilt and underquilt at the $799 level.