Posted by Jaeger Shaw on 26th Feb 2020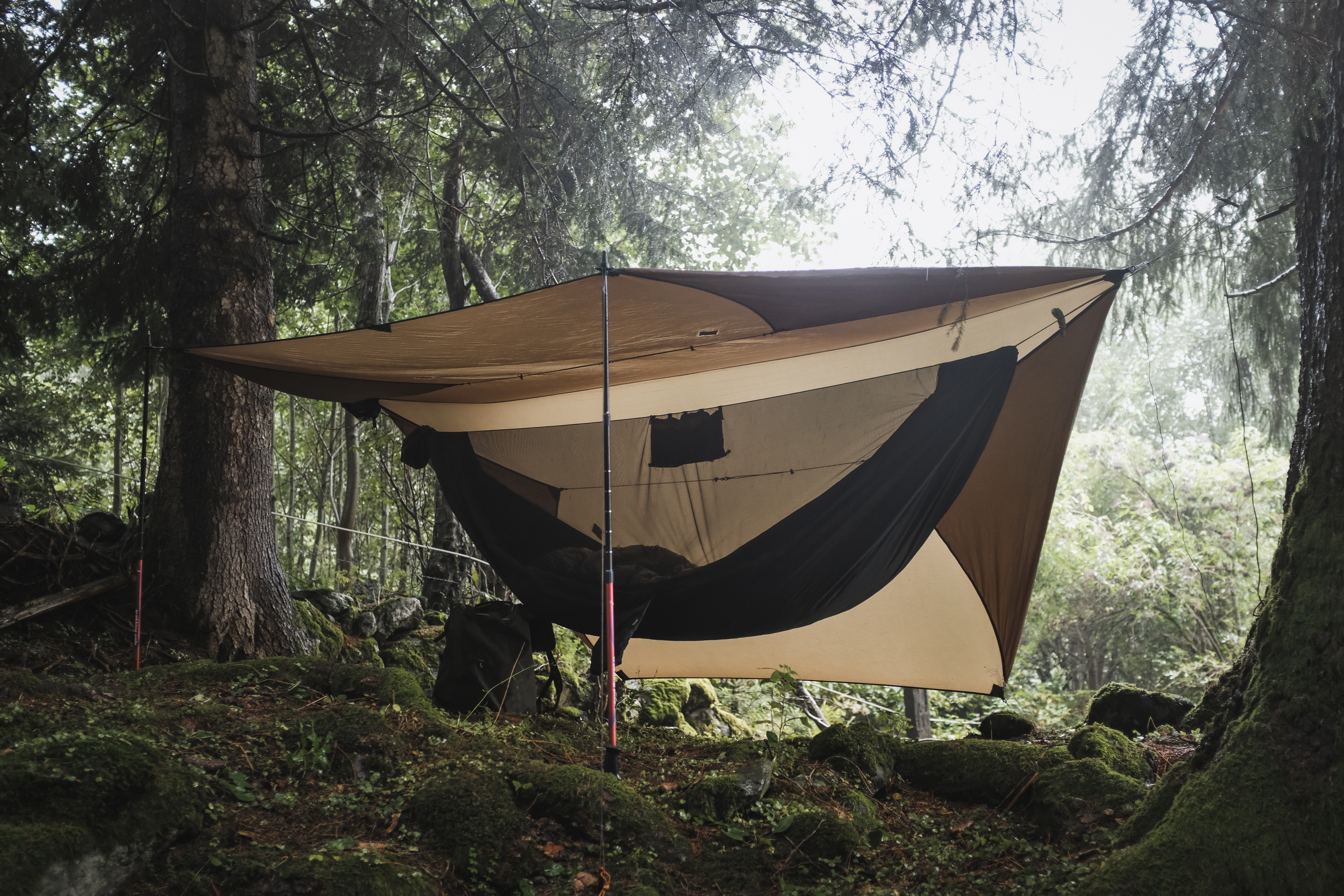 There are many advantages to backcountry hammock camping. It's ultralight. It's ultra comfortable. And it doesn't require flat ground. But one of the more surprising bonuses is that hammock camping is also great in wet weather! I just got back from a wet weekend of coastal backpacking in Olympic National Park, in January, and was very pleased with my choice to sleep in the Wanderlust Hammock setup with the kit's hex-shaped Quest Tarp tensioned overhead, keeping me dry. From that same kit, I stayed warm using a combination of the Economy Burrow 20 top quilt and the Economy Incubator 20 underquilt. A comfy and cozy night, even through wind and rain. Here's why I think hammock shelters are great for camping in wet weather, and why I think you should try it:
Being confined to a hammock is comfy. When you get to camp and it's raining, and you know you're going to be stuck inside for the foreseeable future, what better way to hang out than in a hammock? Unlike tents, you can comfortably be partially reclined for activities like reading, drawing, or wistfully watching raindrops. On the flip side, tent activities force you to sit cross-legged, prop your head up, or lean on one arm while laying down, none of which are comfortable for sustained periods.
You can safely cook inside the shelter. Because tarp shelters are open air, you can turn on your backpacking stove without fear of self-fumigation. Not only that, but you can do so while reclinding from inside the warmth of your quilt or sleeping bag, as everything is within arms reach. Trust me, it sure beats standing around an uncovered camp kitchen, getting wet, and wishing that the water would boil faster.
You don't have to worry about puddles soaking the tent floor. One of the very worst moments in camping is when it starts to rain and you realize that you've pitched your tent on top of a puddle-formation site. Shallow depressions in the ground are sometimes hard to avoid, but can be extremely punishing to tent floors and their occupants. The great thing about hammocks is that by lifting your bed, seat, and couch off of the ground, this potential disaster is downgraded to merely a hassle. Puddles still make getting in and out of the hammock worse, so it's best to avoid this all together and try to pitch somewhere that doesn't collect water.
It's clean and easy to take rain gear on and off inside the shelter. On the coastal backpacking trip I mentioned, we got hit with a flurry of rain one afternoon while exploring sea stacks. Everyone sprinted back to camp and I watched as my friends took their rain gear off, with their torsos in the tent and their legs sticking out. Fleece got rained on, wet butts sat on dry sleeping bags, socks were exposed to drops. They didn't do anything wrong, the process of entering a tent in the rain is simply messy and wet. Meanwhile, I calmly walked under my tarp, took off my rain jacket and pants, sat down in the hammock, untied my shoes, and laid back without any water getting into my sleeping area. It was great.
Hammocks don't stink or get musty. Unlike tents, most hammock shelters are open air, meaning stenches won't coagulate. In tents, piles of close-quartered humans (eating lots of dried backpacking food), wet synthetic fabrics, socks, must, and rain gear all make for a particularly unsatisfying combination of smells. Avoid that stank. Sleep in a hammock.
Trees always provide extra protection. Being reliant on trees is both a blessing and a curse. Sometimes, it can be hard to find the right place to pitch (which is also true of tents). But by forcing yourself to camp amongst trees, you are also guaranteeing yourself extra weather protection. Trees provide wind and rain shelter, and in a hammock, you will always reap that benefit. Bottom line is, you will basically never have to set up in exposed terrain.
While I recommend and look forward to more hammock camping in the rain, it's important to acknowledge the weaknesses of tarp shelter systems: high wind. Because your front door is always open, wind chill affects tarp shelters more than tents. A big wind gust can destabilize your pitch, and in extreme cases, even rip out stakes. If the direction of a strong wind and rain system parallels your tarp, you may always find yourself dealing with a bit of spray. In times like these, make sure you bring a full coverage, closed door hammock shelter like the Palace Tarp or The Journey. Shelters like the Palace Tarp and Journey Tarp are to hammock camping, what a four-season-rated tent is to ground camping.
So pack up your hammock, pick up a tarp, and get ready to upgrade your wet weather experience. Camping should be fun, no matter the conditions, and hammocks are just one way to make it better. I'll see you out there!