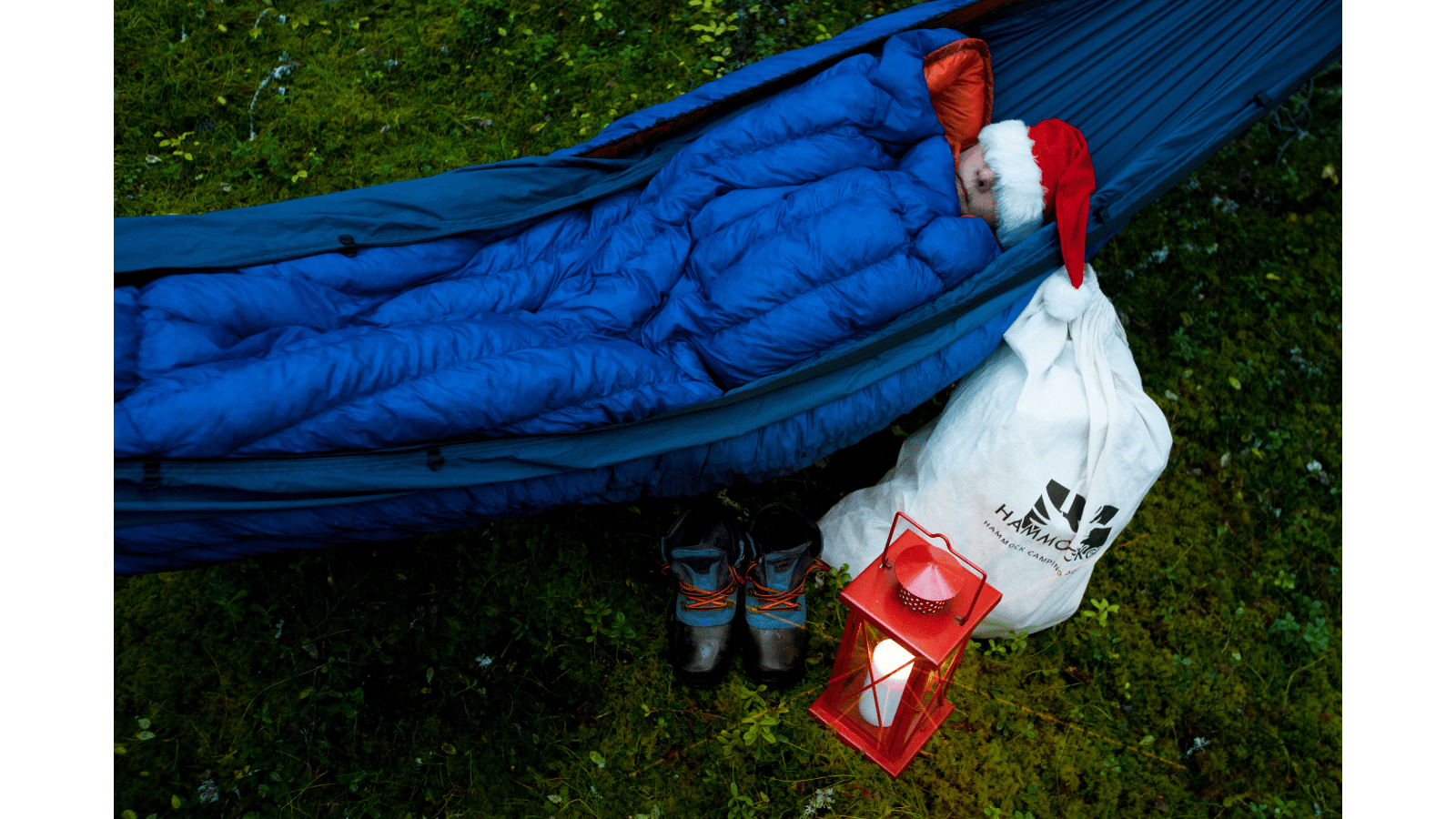 Need some gift ideas for your outdoorsy friends and family? Then you've come to the right place! We've got hammock-themed present inspirations for this year's holiday season. Whether they're lifelong hangers or have never even set up a hammock, this list has you covered for maximum cheer. So from all of us at Hammock Gear, happy shopping, and happy holidays!
GIFTS FOR PEOPLE WHO DON'T OWN A HAMMOCK
Big Gift: Wanderlust Complete Kit For Hammock Camping - Get them a complete hammock camping setup at a great price! The Wanderlust Kit includes everything they need to get started and spend a relaxing night suspended between two trees.
Medium Gift: Circadian Hammock - Treat your beginner with our best all-season, fully-featured, bug-proof hammock. A perfect compliment to warm, lazy days in spring and summer. Make sure to add in the necessary suspension accessories and offer to help them set it up.
Small Gift: Standard Hammock - It might not be the smallest of small gifts, but think of the long term difference you could make in someone's life by introducing them to the joy of hanging out. If you just want to get them started with a simple, functional hammock, this one will set them on the right course. Remember to add in suspension.
Stocking Stuffer: Titanium Wood Stove - You don't need to own a hammock to find joy in a twig stove. Intended for use in the backcountry, but perfect creating surprise and surprise and delight anywhere that trees grow.
GIFTS FOR PEOPLE WHO OWN A HAMMOCK, BUT NOT A CAMPING SETUP
Big Gift: Incubator Underquilt - The first thing one needs to convert a hammock into a camping setup is an underquilt. Help keep their backside toasty warm with the full length Economy Incubator Underquilt.
Medium Gift: The Quest Tarp Shelter - As a part of staying warm at night, they'll also need to stay dry! And that's where a tarp comes in. The Quest is our simplest tarp, perfect for three-season camping, and incredibly simple to set up and use. A perfect starter shelter.
Small Gift: Down Pillow - Nudge them in the right direction (sleeping in their hammock) with a pillow designed specifically for use in a hammock. This cozy pillow has slightly less cushion than normal, which gives your neck better alignment while sleeping in a more upright position.
Stocking Stuffer: The Ultimate Hang: Hammock Camping Illustrated Give them the gift of self education. This little ditty teaches someone everything they need to know about getting started with hammock camping.
GIFTS FOR PEOPLE WHO OWN A BASIC HAMMOCK CAMPING SETUP
Big Gift: Dyneema Fiber Standard Tarp With Doors - Upgrade their tarp to the ultralight, four-season, backpacker's dream shelter, the Dyneema Fiber Standard Tarp With Doors. Fully enclosed and weighing only 7.28 ounces, this bomber shelter is preposterously light and ideal for all backcountry and frontcountry use, rain, sleet, or snow.
Medium Gift: Dyneema Hammock Ground Cloth - There's nothing worse than stepping out of a hammock and into the mud. Delight them with an ultralight, ultra-durable Dyneema ground cloth. Like an outdoor rug, it really ties the room together.
Small Gift: Underquilt Protector - Help them protect against drafts, condensation, splashes, blowing rain, and snow flurries with an underquilt protector. This winter camping essential is a huge upgrade to their system, and there's no better time than now to try one out.
Stocking Stuffer: Ridgeline Organizer - Their quality of life in a hammock is already high, but the easiest way to help improve it is with the gift of accessible storage for important items like a phone, headlamp, or book. Make sure their hammock has a ridgeline to ensure this purchase is functional!
GIFTS FOR PEOPLE WHO HAVE TONS OF HAMMOCK CAMPING GEAR
Big Gift: Adventure Hammock Systems Vehicle Mount - Widen their range with a vehicle hitch hammock mount. New to the Hammock Gear family, and perfect for camping in desert or grassland ecosystems, the Adventure Hammock Systems is sure to inspire the next road trip.
Medium Gift: Schwarze Biene Table - By now your gift recipient probably has in-hammock storage covered. So why not get them a German-engineered standalone table? Perfect for keeping a dram of whiskey or a mug of cocoa within reach at all times.
Small Gift: Down Hood - A modular hood is niche enough that they probably don't have one, but critical for winter hammock camping in truly frigid temps. It might look a bit silly, keeping one's head warm is no laughing matter.
Stocking Stuffer: Dyneema Fiber Dry Bag - If they're like us, your giftee's gear closet is full of hammock accessories. But nobody is maxed out on Dyneema dry bags. They're of the highest quality, tough as nails, and perfect for organizing any type of gear. The 14L size is most versatile.